What is the A3 Pop-up Industrial Press?




​Texas Size Print The Documentary Movie Trailer


​

​
The Exhibit @ Texas A&M-San Antonio ECAC at Market Square
MARCH 12th through June 14th 2015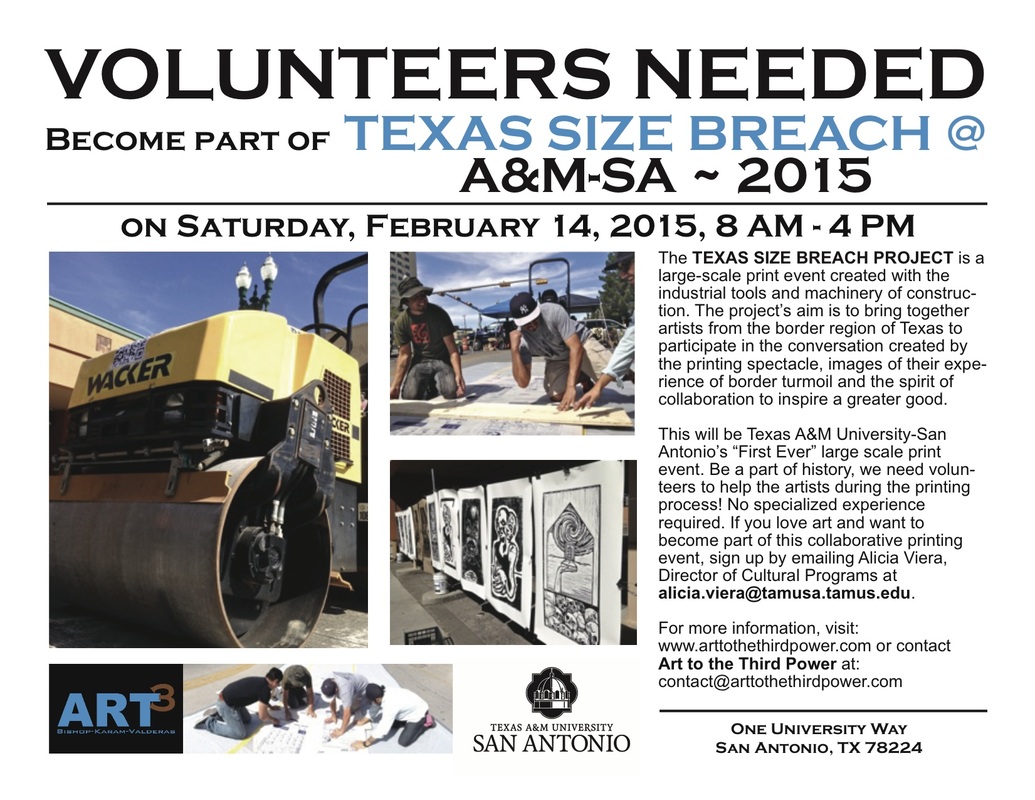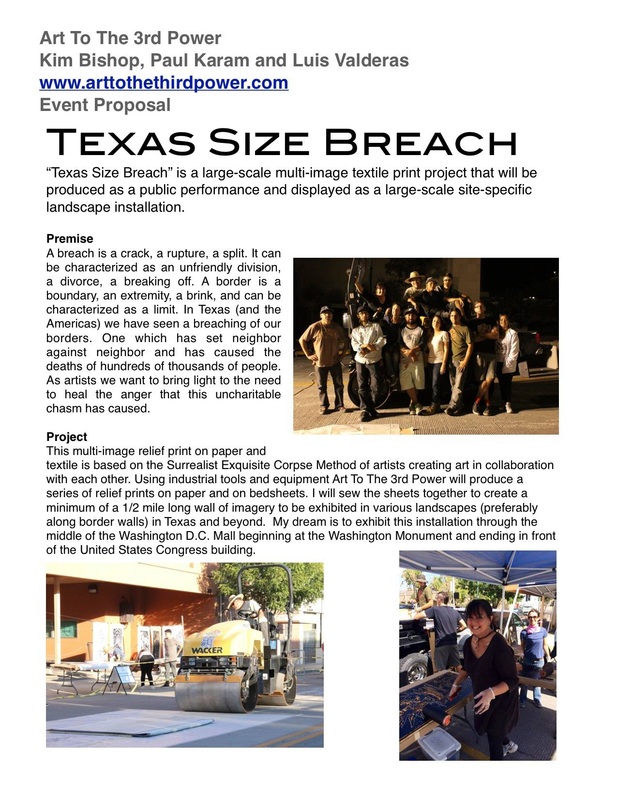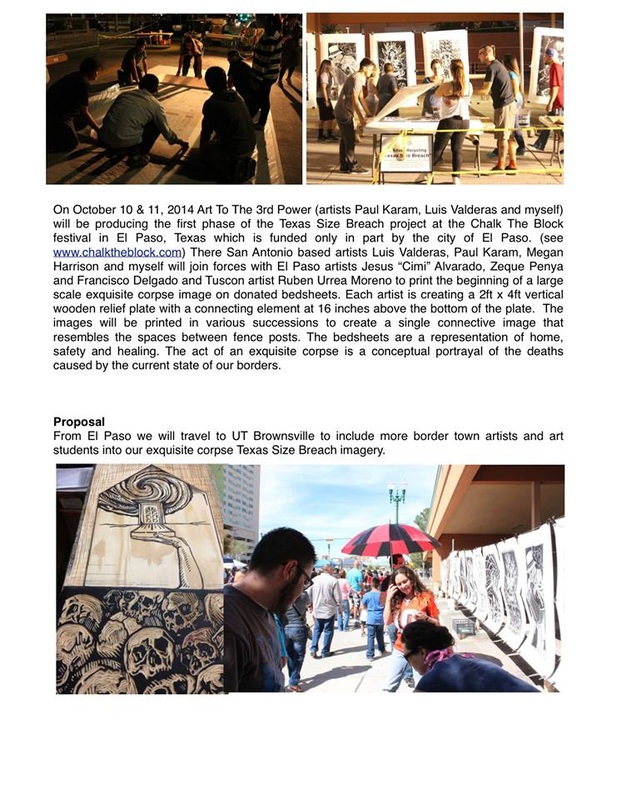 Featured in Trends-2013
The Journal of the Texas Art Education Association
visit link below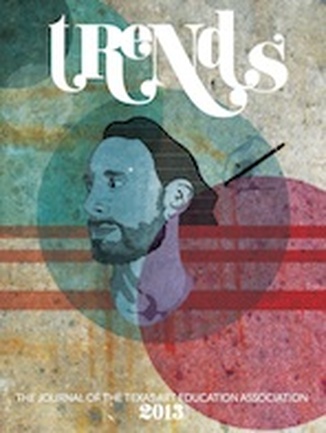 Portraits of Our Community San Marcos 2013 :
the short & sweet video...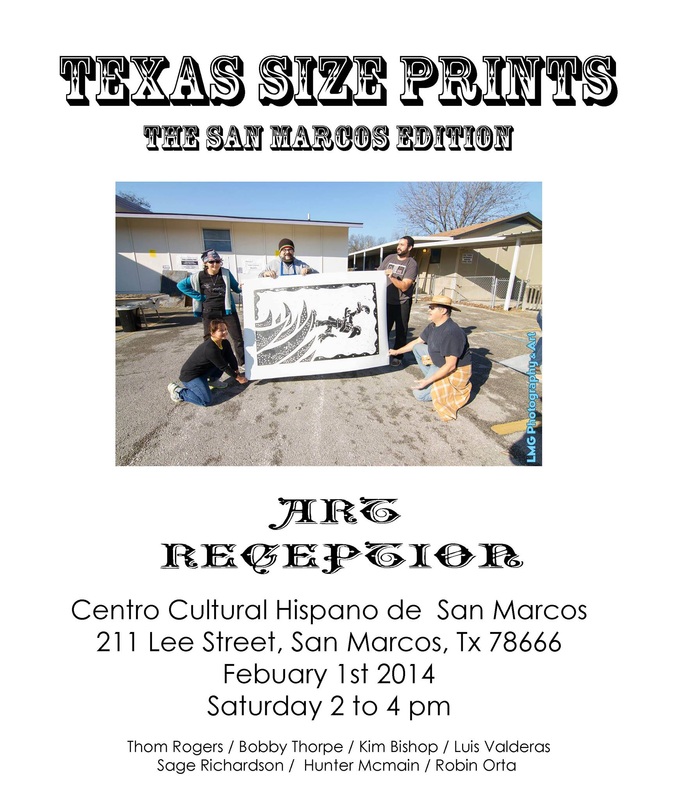 El Centro Cultural Hispano de San Marcos and Art to The Third Power Present:"Portraits of Our Community" a Large Scale Print Event
On November 23, 2013 San Antonio's Art To The 3rd Power (Kim Bishop and Luis Valderas) brings large-scale printing to San Marcos. Hosted by the Centro Cultural Hispano de San Marcos, seven local artists will create their interpretations of the theme "Portraits of Our Community" using non-traditional industrial-style printmaking techniques. The public is invited to witness and participate in this first for San Marcos steamroller print event which explores cultural convergences through large-scale print imagery. "It is the beginning of a tradition in San Marcos and it is free to the public," says Bishop, "Proceeds from the event will go to supporting the efforts of the cultural center." Printing begins at 10:00 am. For more information contact Linda Kelsey-Jones 512-878-0640 at El Centro Cultural Hispano de San Marcos.
http://sanmarcoscentro.org/
The Centro Cultural Hispano de San Marcos, the brainchild of Ofelia Vasquez Philo is now housed in the old Bonham School at 211 Lee Street and stands poised to bring to life the story of Hispanics in San Marcos. Though it's been her dream for 30 years, Vasquez Philo said efforts to establish the Centro date back to 2007, when a planning group that also included Gloria Salazar, Rosina Valle, Margie Villalpando and Lupe Costilla secured, through donations by the Texas Educational Foundation and San Marcos Mayor Susan Narvaiz, non-profit status from the IRS.As it turned out, she explains, she made a presentation to the Minority Arts Commission just as that group was about to disband. "They had $11,336 in the bank and made a motion to give it all to Centro Cultural Hispano."The very next week, Vasquez Philo met with San Marcos CISD Superintendent Patty Shafer about the Bonham School, which hadn't been used since the spring of 2009. Shafer drew up a contract, district personnel measured the space and made Vasquez Philo an offer she couldn't refuse.
Prints Completed on Saturday December 14th 2013
---
The Texas Size Print
A Public Art Piece @ Alamo Stadium 1.14.12 10am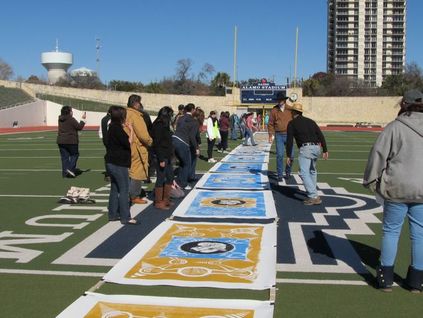 A "one time only" photo shoot documenting the public exhibit of the largest mono-print in Texas. It showcases San Antonio artists Kim Bishop, Paul Karam and Luis Valderas bringing together a community as they examine cultures blending into "The" Texas Size Print. The piece explores the transformation that occurred with the merging of Meso-American and European myths and cultures in the New World creating a modern hybrid rich with heritage. With the participation of Brackenridge High School art student and volunteers Bishop, Karam, Valderas install a magical transformation of Alamo Stadium into a meso-american temple- all captured by film maker James Borrego and photographers: Luis M Garza, Expose the Heart (David and Irene Castillo) and Paul Cruz.
Winner of 2012 Best of San Antonio Current-Best Public Art Installation

First Large Scale Temporary Public Art Installation at Alamo Stadium



---
The Making of The Texas Size Print - Summer/Fall 2011
- The Texas Size Print is Conceived Spring 2011
- Printed Fall 2011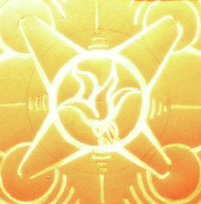 The Largest Mono-Print in TexasWhen & Where:
The Printing Event September 17, 2011
Blue Star Contemporary Art Center

The Exhibitions
January 14th, 2012
Alamo Stadium-SAISD-See the mono-print in its entirety...One Time Only!!!
February-March

2012


Blue Star Contemporary Art Center
June - December, 2012
UTSA Downtown Gallery
The Project
On September 17, 2011 in collaboration with Blue Star Contemporary Art Center, we printed the largest mono-print in Texas using a steamroller. Our one-of-a-kind 3 color large-scale print event happened from 10:00am to 2:00pm in the Blue Star Contemporary Art Center parking lot, San Antonio, TX.

The Image
Entitled Who Are We? Where Do We Come From? Where Are We Going? our image examines cultural iconography from 3 different perspectives. Influenced in part by Gauguin's painting with the same name, we are exploring Western European beliefs with ancient Meso-American beliefs and questioning where this mingling of ideas leaves us today.

The Education
As art educators we are excited about incorporating this idea and process into our classrooms by including in the project a classroom curriculum of student friendly printing projects using Maslow's Higher Order Thinking Skills.
As of December 10th 2011, we have now completed the educational outreach section of this project in collaboration with ArtPace from San Antonio with the Semester School Program and the art students from Brakenridge High School. They have created three Large Scale prints that will become part of the permanent art collection of the high school.
The Top 3 Tiers of Higher Order Thinking
According to Maslow's hierarchy of higher order thinking the student must first examine the possibilities, understand their impact, and then choose to create something new.
---
Other Large-Scale Relief Print Collaborations
Art to The Third Power helping out in Kingsville's First Ever Large Scale Print Event...